Germinación y multiplicación de plantas in vitro de Heimia salicifolia (Lythraceae)
Fernando Ordoñez

Universidad Autónoma Metropolitana

José Luis Rodríguez de la O.

María de Lourdes Martínez Cárdenas
Palabras clave:
Cultivo in vitro, giberelinas, citocininas, germinación, clonación, micropropagación
Resumen
Las técnicas de germinación y micropropagación in vitro permiten rescatar y multiplicar plantas a gran escala, estas técnicas evalúan el mejor protocolo de cultivo resultando en optimización.  La técnica de germinación para Heimia salicifolia se planteó a partir de la evaluación de concentraciones diferentes de citocininas y giberelinas en medio MS (1962) al 100% con 3% de sacarosa, sin vitaminas evaluando los efectos de estos reguladores de crecimiento sobre tiempos de germinación y desarrollo vegetal acorde a número de hojas, longitud de las plántulas y vigor. No se presentó diferencia significativa entre los tratamientos, sin embargo, la evaluación de las plántulas transcurridos cuatro meses, permite concluir que los reguladores de crecimiento presentes desde la germinación producen afectaciones a la calidad de las plántulas.
La técnica de micropropagación fue llevada a cabo con medio MS (1962) al 100% con diferentes concentraciones de 2-isopentiladenina (2ip), Bencilaminopurina (BAP) y Kinetina (K), suplementados con 30g/L de sacarosa, 100 mg L−1 de Myo-inositol, 0.40mg de Tiamina, 60 mg L−1 de L-cisteína y pH de 5.7± 0.1. Los resultados del protocolo exhibieron diferencias significativas a partir de la obtención de explantes basales y apicales. El tratamiento 2 (0.3 mg L−1 para 2ip, BAP y Kinetina) mostró resultados diferenciales en cuanto a número de brotes y número de hojas, sin embargo, el crecimiento longitudinal diferencial de la plántula se obtuvo a partir del tratamiento sin hormonas, resultando estos dos tratamientos como eficaces para la micropropagación de Heimia salicifolia.
Citas
Agrawal V, Sardar P. 2003. In vitro organogenesis and histomorphological investigations in Senna Cassia angustifolia—a medicinally valuable shrub. Physiol Mol Biol Plant 9:1–10.
Arenas Solà. 2007. Matemáticas: fichas de la asignatura. Barcelona. Edicions Universitat Barcelona de Barcelona.
Bhojwani, S. S., y Prem Kumar Dantu. (2013) Plant tissue culture: an introductory text. New Delhi. Springer.
Chiang, H. H., Hwang, I., & Goodman, H. M. 1995. Isolation of the Arabidopsis GA4 locus. The Plant cell, 7(2): 195–201.
Díaz D. 1999. "Xochipilli: Príncipe de las flores". Arqueología Mexicana. 39: 52-53.
George, Edwin F, Michael A Hall, y Geert-Jan de Klerk. 2007. Plant Propagation by Tissue Culture: Volume 1. The Background. Springer. Holanda.
Golebiewski WM, Wrobel JT. 1981. The Lytraceae alkaloids. En: Manske RHF (founding ed), Rodrigo RGA (ed) The Alkaloids, vol 18. Academic Press, London New York, pp 263-322.
Graham A. 1994. Lythraceae. Flora del bajío y de regiones adyacentes 24: p.45-48.
Gunasena, Kasundi & Manjitha, K.G.L. & Senarath, WTPSK & Samanmalee, L.G.I. 2019. In vitro Plant Regeneration through Organogenesis and Somatic Embryogenesis of Punica granatum Linn (Lythraceae). International Journal of Scientific and Engineering Research. 9: 390-395.
Hussain MK, Anis M. 2009. Rapid in vitro multiplication of Melia azedarach L. (a multipurpose woody tree). Acta Physiol Plant 31:765–772.
Lema, W.J., Blankenship, J.W., and Malone, M.H. 1986. Prostaglandin synthetase inhibition by alkaloids of Heimia salicifolia. J. Ethnopharmacol. 15: 161–167.
Malone, M.H., and Rother, A. 1994. Heimia salicifolia: a phytochemical and phytopharmacologic review. J. Ethnopharmacol. 42: 135–159.
Ram, Kheta, y N. S. Shekhawat. 2011. Micropropagation of Commercially Cultivated Henna (Lawsonia Inermis) Using Nodal Explants. Physiology and Molecular Biology of Plants 17,3: 281-89.
Rother A. 1989. Heimia salicifolia in vitro culture and the production of phenyl-and byphenilquinolizidines. En: Bajaj, Y.P.S. (1989). Eds. Medicinal and Aromatic Plants II. p.243-254. Springer, Berlin.
Trigiano, R. N., y Dennis J. Gray. 2011. Plant tissue culture development and biotechnology. CRC Press. Boca Raton
Tripathi M, Kumari N. 2010. Micropropagation of a tropical fruit tree Spondias mangifera Willd through direct organogenesis. Acta Physiol Plant 32:1011–1015.
Xu Y-L, Li L, Wu K, Peeters AJM, Gage DA, Zeevaart JAD. 1995. The GA5 locus of Arabidopsis thaliana encodes a multifunctional gibberellin 20-oxidase: molecular cloning and functional expression. Proc Natl Aca Sci USA 92: 6640–6644.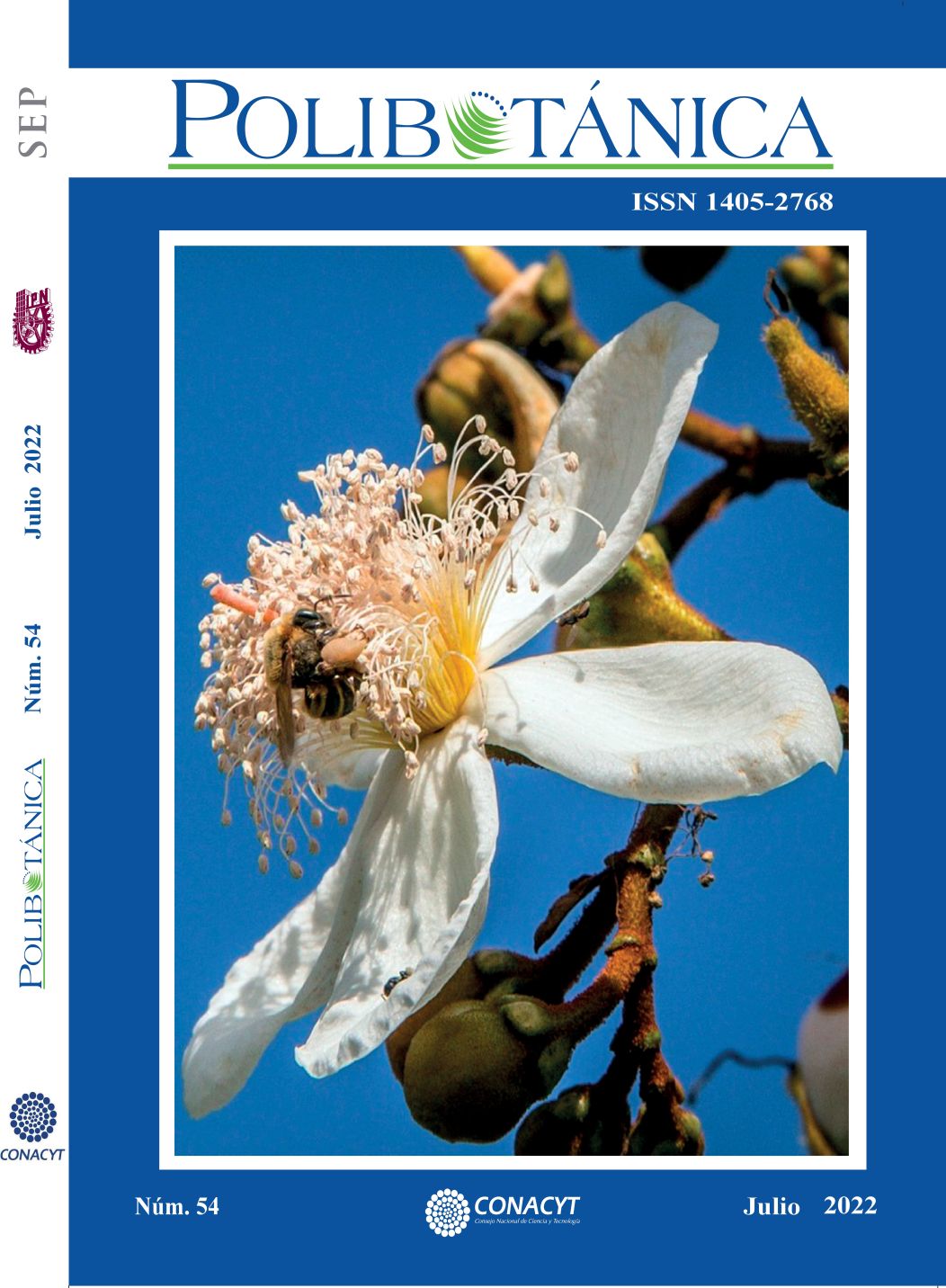 Cómo citar
Ordoñez, F., Rodríguez de la O., J., & Martínez Cárdenas, M. de L. (2022). Germinación y multiplicación de plantas in vitro de <i>Heimia salicifolia</i&gt; (Lythraceae). POLIBOTÁNICA, 1(54). Recuperado a partir de https://polibotanica.mx/index.php/polibotanica/article/view/1009
Derechos de autor 2022 POLIBOTÁNICA
Esta obra está bajo licencia internacional
Creative Commons Reconocimiento-NoComercial-CompartirIgual 4.0
.

Polibotánica por Departamento de Botánica de la Escuela Nacional de Ciencias Biológicas del Instituto Politécnico Nacional se distribuye bajo una Licencia Creative Commons Atribución-NoComercial-CompartirIgual 4.0 Internacional.